What you have to know about photovoltaic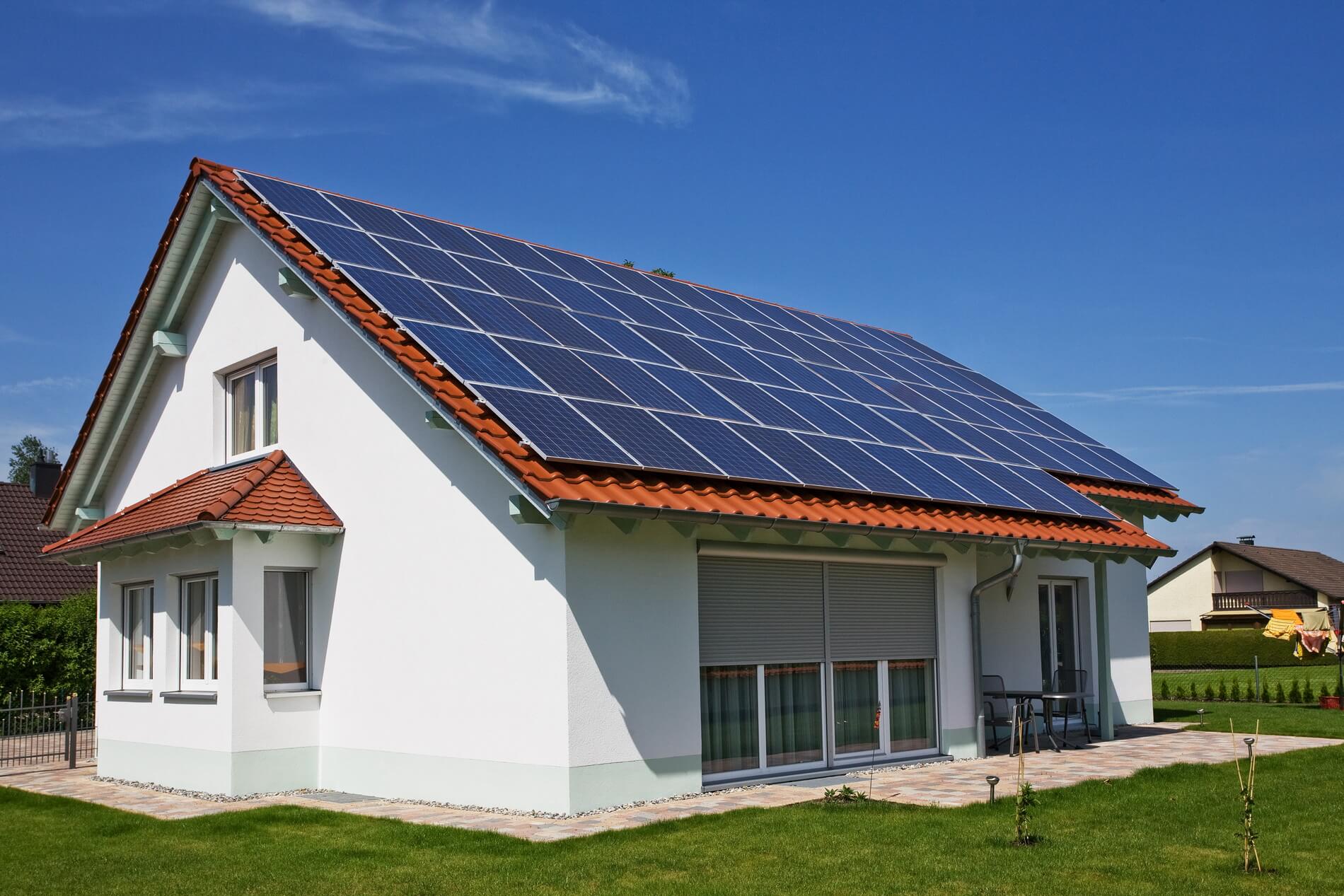 Why choose photovoltaic solar panels?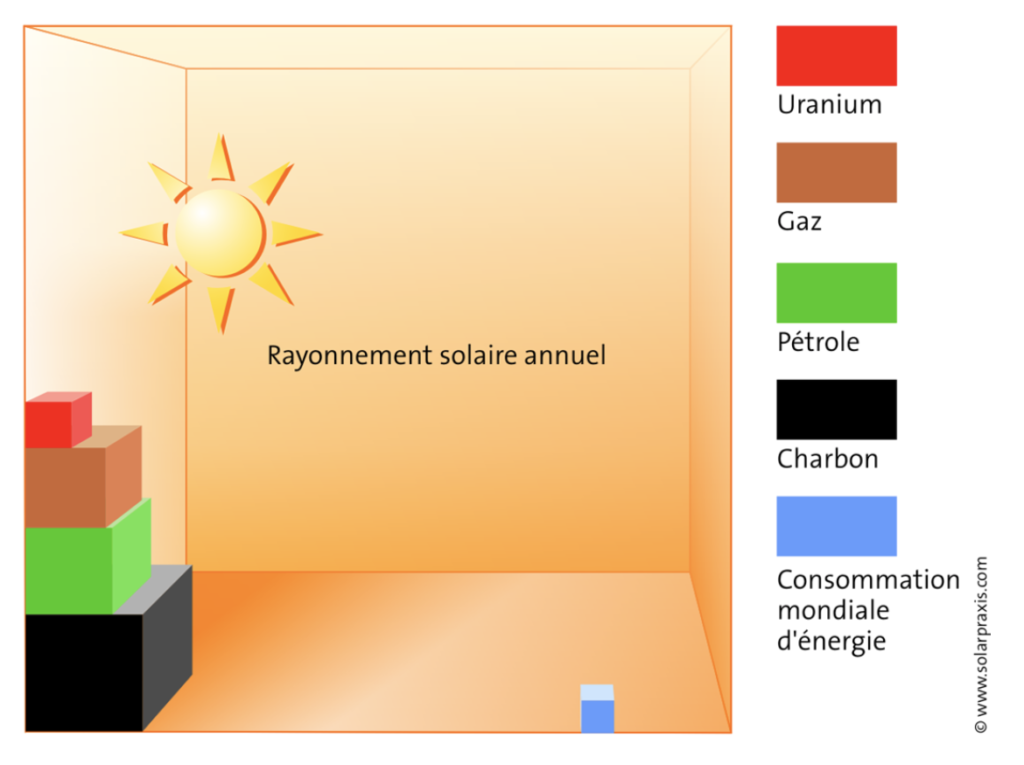 This image clearly shows that the solar energy deposit will stop fossil fuels and be enough to produce world energy consumption.
Photovoltaic energy in terms of cost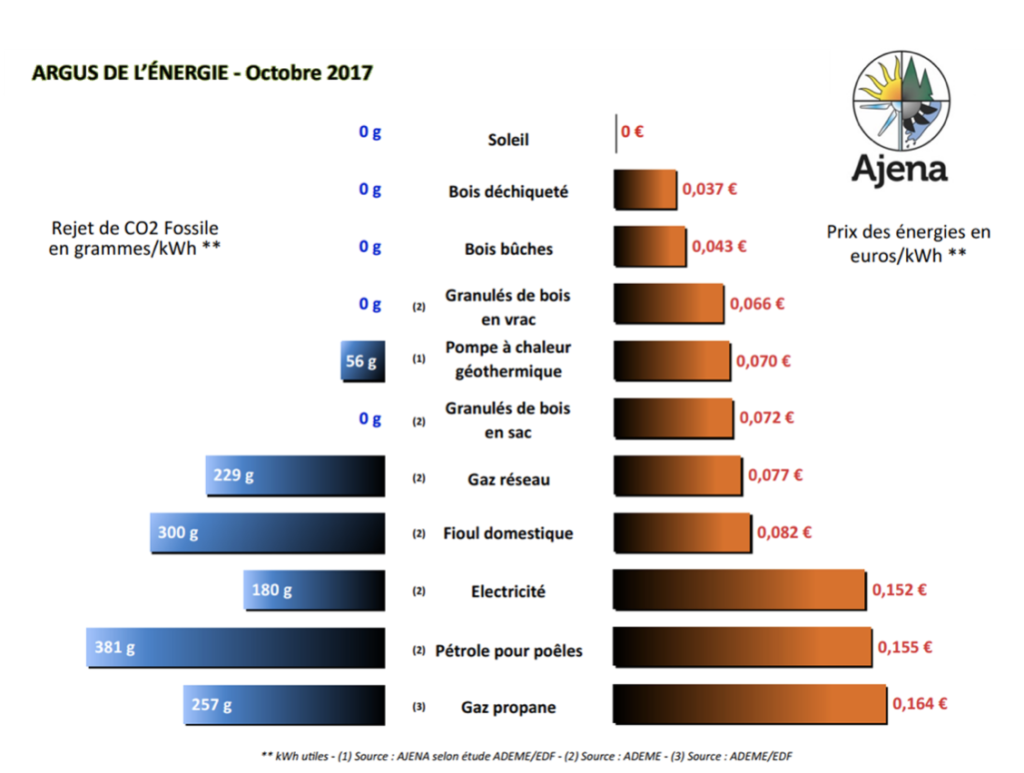 Solar energy costs € 0 …
What is a photovoltaic generator?

It is a complete electricity production installation which includes:
• Photovoltaic panels
• Micro inverters or inverter
• DC and AC boxes
• (optional) battery for storage.
With the new technologies, it is also possible for you to follow in real time the production of your solar panels on an application (smartphone or pc).

The cost of a photovoltaic installation mainly depends on three factors :
• The type of installation (overlay or integration into the frame); Our MASSERIA team only performs the overlay installation.
• The power of the installation.
• The equipment used.
That said, the price of a peak kilowatt of photovoltaic panels is generally between € 2,600 to € 3,000 including tax.
When you become a producer of green electricity, EDF is obliged to buy back your production at a fixed price for 20 years.
You can therefore establish a purchase obligation contract with EDF's specialized sector.

Recycling of solar panels
Recycling of PV modules compulsory since August 23, 2014 (decree 2014-928) by the directive on Waste Electrical and Electronic Equipment (WEEE).
A PV module is essentially composed of an aluminum frame, glass, cells (most often silicon), plastics and copper and / or silver connections.
Techniques vary :
Heat treatment (burning of plastics to separate cells from glass or grinding:
Aluminum (frames)> aluminum workers (aluminum industry)
Glass> glassmakers (classic glass recycling)
Tedlar / EVA: solid recovered fuels (CSR)
Recovered silicon to make new cells or to be melted and integrated into an ingot (it can be reused up to 4 times) or cement factories
Copper powder> shot refiner
Junction box> recycled plastic
Viable recycling since components with market value to finance the activity.
The 1st French unit for processing / upgrading PV modules is located in Rousset, Bouches-du-Rhône (Véolia). It recovers 1,400 tonnes of materials per year from 2017 and up to 4,000 tonnes in 2021.
PV CYCLE collected 2,450 tonnes of used PV panels in 2017 on French territory. Recovery and recycling rates reached 94%.

How to calculate the profitability of photovoltaics?
The following point can be complex to grasp.
So to help you plan, here is an example based on the scenario of a 3% increase in the price of electricity provided by ADEME and ENERPLAN.
Let's also say that you live in a house facing Southeast with a roof pitched at 30 °.
You have an electric hot water tank, induction hobs, an electric oven and the classic household appliances.
You currently have an annual electricity bill of around € 1,600.
Let's look at the evolution of this bill with and without installing photovoltaic modules.

| | | |
| --- | --- | --- |
| | Annual electricity bill without photovoltaic system | Annual electricity bill with 3 kWp of photovoltaic panels |
| 2019 | 1600€ | (1600*0.65)=1040€ |
| 2022 | 1800€ | (1800*065)=1170€ |
| 2030 | 2280€ | (2280*0.65)=1482€ |
Entretenir des panneaux photovoltaïques est simple.
By taking into account the increase in the price of electricity, your installation is actually profitable in 10/12 years!
And we're basing on a relatively small increase in the price of electricity.
Indeed, it could be that this increase is a little more brutal…
"Full sale" is the historic option for photovoltaics.
The electricity produced here is injected directly into the network without powering your home.
You sign a contract with EDF OA and sell all of your production to it.
As with the sale of surplus (when you consume it for yourself), this production is bought from you at a fixed price for 20 years, subsidized and guaranteed by the State.
Summary of the purchase price according to the power of the installation:
Power Price Redemption of kWh
⩽ 3 kWp € 0.1857
⩽ 9 kWp € 0.1579
⩽ 36 kWp 0.1207 €
⩽ 100 kWp € 0.1076
With an installation of 9 kWp, you can therefore get nearly € 1,670 of income per year and make your installation profitable in ten years.
The sale of renewable electricity is therefore still one of the safest and most profitable investments today!
With rates of return of up to 10%, solar power puts life insurance and other A booklets in the closet.
By signing a contract with EDF O.A, you are sure to be paid. Which is not the case with tenants.
Finally, stock market investments offering returns on investment comparable to solar are generally dangerous. So you risk losing everything …

The cost of maintaining a photovoltaic panel
Maintaining photovoltaic panels is simple.
After installation, they operate on their own and their maintenance is generally limited to cleaning every 3 years.
Cleaning you can do yourself with a simple telescopic broom and lukewarm water.
Wind and rain naturally keep your installation clean.
Self-consumption aid
Since 2017, the state has granted financial assistance to individuals who wish to consume their own electricity.
This aid is paid in the form of a bonus during the first 5 years of operation of your installation.
Power of the photovoltaic system Total amount of aid Annual amount paid for the first 5 years
3 kWp 1,170 € 234 €
6 kWp 1,740 € 348 €
9 kWp 2,610 € 522 €
To benefit from this bonus, it's very simple.
• Must be in self-consumption with sale of surplus;
• Be installed by a certified RGE installer.
The request for a self-consumption bonus is triggered when the connection request is made.
Once the connection request to ENEDIS has been made, EDF OA will be able to pay you this premium.
Subsidized photovoltaic electricity redemption rate
The second type of aid you can benefit from is the subsidized purchase price for your surplus.
Indeed, as in the case of the total sale, your surplus is bought by EDF O.A at a subsidized price.
The purchase price per kWh of surplus in the first quarter of 2019 is set at:
Power Additional Purchase Price.
⩽ 3 kWc 0.10 €
⩽9 kWc 0.10 €
⩽36 kWc 0.06 €
⩽ 100 kWc 0.06 €
⩽ 3 kWc 0.10 €
⩽9 kWc 0.10 €
⩽36 kWc 0.06 €
⩽ 100 kWc 0.06 €

What is the lifespan of a photovoltaic panel?
If you are looking for this on Internet, chances are you will come across the following answer: "between 20 and 30 years".

The fact is that it is not true.

The first solar panel was manufactured only in 1954 by Bell laboratories and was intended to serve the space conquest(300 watt peak monocrystalline photovoltaic solar panel).
Solar energy began its democratization slowly during the first oil shock in 1971 with the development of a process making it possible to design solar cells at low cost.
Since then, the technology, quality and reliability of photovoltaic modules have not stopped progressing and market players have thus been able to start guaranteeing their products.
In the early 1990s, manufacturers of solar panels offered 10-year warranties.
Today, these guarantees are generally 25 years.
Yes, the lifespan of solar panels is ultimately much longer than expected.
Solar professionals now estimate that a properly installed and maintained photovoltaic solar panel will produce electricity for 40 years.
If history repeats itself, we will probably find out in ten years that the longevity of solar panels is in fact even greater.
Legal warranty ≠ lifetime
It is important to differentiate the guarantee of linear production of solar panels and their real lifespan.
Indeed, to answer that the lifespan of a solar panel is 25 years is as false as to say that the lifespan of your washing machine is two years (duration of the legal guarantee of conformity).
After this date, your photovoltaic modules, like your washing machine do not stop working.
In the case of solar panels, they will simply be less efficient.
For example, manufacturers today guarantee that their panels will still have at least 80% of their initial power after 25 years.
Lifespan of photovoltaic solar inverter

Indeed, to produce "usable" electricity, by the network and / or by yourself, you must couple your photovoltaic panels with one or more inverters.
In the first case, we speak of a central inverter, of a chain or "string" and in the second of micro-inverters.
Let's see together the differences in the lifespan of these types of inverters.
① Central inverter: lifespan of 10 years:
A chain inverter is a box the size of a microwave that converts direct current into alternating current.
It is generally installed as close as possible to your panels in a cool and protected place such as your garage for example.
Even under these optimal conditions, an inverter of this type has a service life of between 8 and 12 years and guarantees of 5 years on average.
And there, it's not like the photovoltaic panels.
After this lifetime, it no longer works at all.
It will therefore have to be replaced.
That said, some brands offer extended 10, 15 or 20 year warranties.
These in fact assure you of the replacement of your inverter once it has broken down.
Their price will depend on the installed power, and the duration.
Count between € 200 for a 10-year warranty extension for a 3 kWp installation and € 1,200 for a 20 year warranty extension for a 9 kWp installation.
② Microinverters: a longevity of 20 years:
Microinverters are inverters placed directly behind your solar panels.
They work similarly to a conventional inverter.
In short, Microinverters have an extended 20-year warranty.

What about their lifespan?
Their lifespan is therefore at least 20 years.
An Enphase ** microinverter reliability study states "according to a conservative calculation model" that the lifespan of their inverters would be more than 50 years!
** Brand that we offer.
We can, even more cautiously, assert that their lifespan is at least 20 years.
Conclusion :
We now know that professionals believe that the lifespan of a well-installed and well-maintained photovoltaic solar installation (panels and inverter) can extend up to 40 years.
Yes, it means that you produce green electricity comfortably for 40 years.
The return on investment is therefore incomparable.
Admittedly, it is difficult to know where you will be in 30 or 40 years.
But what is certain is that you will always generate your own electricity.
The requirements of the 2012 thermal regulations :
RT 2012 requires the use of a renewable energy source, in general:
– solar thermal collectors for the production of domestic hot water;
– PV modules for the production of electricity;
– wood boilers or wood stoves;
– connection to a heating network supplied with more than 50% by renewable energies;
– heat pump (air / water, water / water)
Share post: