NATURAL COATINGS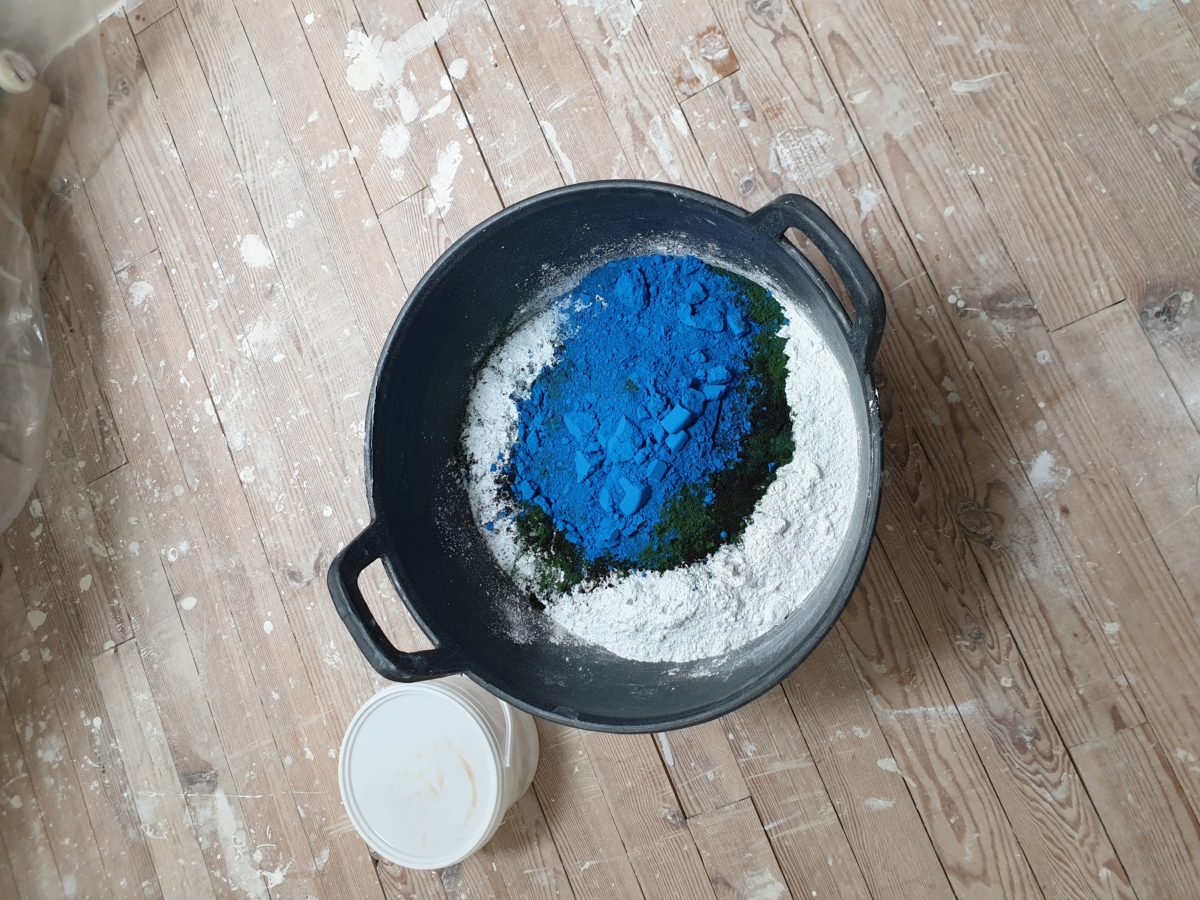 Discover the natural coatings we use

The stucco
Stucco, the technique of which dates back to Antiquity, is a thinly dyed plaster (one or two millimeters)
Based on fatty lime, it is used for covering ceilings and walls, both indoors and outdoors.
Stucco can imitate marble, it is composed of lime, vegetable glue, and marble dust.
Once applied, the stucco will be closed using a trowel during carbonation (chemical reaction of lime). We are going to tighten the stucco, so we polish crystals of calcium carbonate in formation which we tighten against each other, this will create a fine film of cullet on the surface. This glazed coating on all of its coating will give the mineral finish all its letters of nobility and luster. Marble powder crystal offers many more facets than sand and therefore captures the sun's rays better to restore them by irradiating the pigments frozen in the coating with a thousand lights.

The clay
Clay is the ecological binder par excellence because there is no cooking in the manufacturing process to obtain it. The clay coating is healthy, pure, our coatings give a decorative note of intensity, light and inimitable strength.
Clay or earth coatings are mixtures of uncooked clay mixed with fine sand to obtain a natural and breathable finish for interior walls. They have been used worldwide for thousands of years and still exist in many traditional vernacular buildings.
Clay comes in a wide variety of finishes to create an original interior decoration. A clay coating has mineral, textured, smooth and uniform effects. The clay coatings are reversible, which means the possibility of resuming your production ad infinitum.

HISTORY OF THE USE OF CLAY PLASTERS
Clay plasters have often been used in old buildings in the UK as a base coat, with a top coat of lime, because clay is cheaper than lime.
clay plasters add an extra (beautiful) dimension to living spaces.
Clay is a better description than earth, because earth contains aggregates (stone, gravel) and also living materials. Clay is formed from the chemical weathering of feldspar rock, and is found in all countries. It is a clay subsoil that is used, not topsoil.
Clay plaster can be used as a base coat when mixed with coarse sand, hemp or a binder of chopped straw, and can be used with finer sands to produce a top coat. There are many different kinds of clays that can be used in coatings. Some clays are hard but not very hygroscopic (see benefits), and others are softer but absorb more moisture. The best coatings will be hard and hygroscopic, and often the best way to do this is to mix the clays.
Clay coatings at work
Clay plasters lost favor in the 20th century with the evolution towards synthetic, non-breathable building materials, but we are witnessing the start of a revival with an increased interest in natural houses for environmental and health reasons . Clay plasters are intended for internal use only, but can be used outdoors as a base coat for a whitewash topcoat.
Health benefits of clay plaster
Clay plasters maintain a constant relative humidity of about 50-60%, which is beneficial for people with asthma or other respiratory problems, but harmful to dust mites, which reduces problems related to allergies.
they do not contain unpleasant chemicals and are able to absorb toxins and thus improve the quality of indoor air. Of course, you will try not to use toxic cleaners or buy toxic products for the home, but in our time it is difficult to completely avoid toxins and that is why clay plasters can help you.
You have to be in a room with a clay coating to understand how beautiful, sensual, natural they are… they are responsible for our well-being.

Waxed concrete
A NATURAL WAXED CONCRETE WITH RESPECT FOR THE ENVIRONMENT
Our lime waxed concrete is a noble and original material, in harmony with the ecology, thanks to an alloy of cements and lime, it is particularly flexible and maintains the permeability of the support to water vapor, the flexibility of this waxed concrete, brought by lime, is truly unique. In addition it has a natural resistance to attack by mold and bacteria, very resistant to wear and easy to clean, soap, water no more! No more inconvenience linked to joints, real nests for bacteria.
Ecologically virtuous whitewashed concrete reveals a very natural, finely moiré and satin appearance.
WAXED CONCRETE: A RESISTANT FINISH THAT ADAPTS TO ALL SUBSTRATES
First of all, the waxed concrete coating is suitable for all supports and above all, in terms of decoration, it adapts to all interior styles thanks to its many variations and colors. This mortar will be obtained by mixing powder, water and natural pigments for color. The thickness of the waxed concrete placed will be between 2 and 4mm. This low thickness, for such a solid and resistant material, makes our waxed concrete ideal for renovations, on existing tiles or on a cement screed.
Tadelakt
A PERFECT COATING FOR BATHROOMS
It is perfectly suited to the wettest rooms in the house such as the bathroom. The tadelakt coating is also bactericidal and anti-mold. Our demanding selection of the best compositions guarantees you the highest quality of our tadelakts and stucco coating. Aesthetically and technically speaking, these plasters will therefore also be ideal for a hammam, the surroundings of an indoor swimming pool or a walk-in shower.

THE CHARM OF THE HOUSE IN ORDER TO RETURN COLORS TO YOUR INTERIOR
In addition to its many technical advantages, the tadelakt will bring an original, authentic and beautiful visual appearance to any room in your home. Our different tadelakts and stuccos reveal their moiré patterns and offer an appearance that is both stuccoed, smooth and shiny, according to your choice. It will become more and more beautiful over time, offering a pleasant touch and a sublime material. This coating is aptly named, since "Lakt" means "to stroke" in Arabic.
WHERE DOES TADELAKT COME FROM? (ORIGIN AND HISTORY)
Native to the region of Marrakech in Morocco, tadelakt is a natural plaster based on lime, both decorative and waterproof. An exquisite and natural combination of pure functionality and unaltered style.
Used in the restoration of riads across the country, Tadelakt lime was first extracted from the Marrakech plateau in the High Atlas mountains. This smooth and seamless finish that you associate with the architecture of the souks, palaces and riads of North Africa is the tadelakt. Traditionally seen in a deep ocher red, the tadelakt can come in any color – see our beautiful color chart for more inspiration.
The word itself means "rub" or "massage" when translated from its original Arabic تدلاكت, and its creation and application remains true to its centuries-old roots, transmitted by Moroccan masters over the centuries. It was indeed under the Berber domination of the 11th century that craftsmen began to use the tadelakt method, first to waterproof the royal cisterns. The use of lime combustion for plaster dates back over a thousand years. These innovative Egyptians used plaster of gypsum and lime to build their pyramids 5000 years ago…

Taking advantage of its immense natural properties with expert and precise application methods, tadelakt was quickly used for decorative purposes in construction throughout Marrakech and beyond: in exterior facades, in small drinking vessels and in hammams (bathrooms). No wonder tadelakt is becoming a popular and stylish alternative to tiling in bathrooms, kitchens and powder rooms, as well as for spas and entire pools. That said, it is such a versatile material that it is suitable for almost any interior or exterior wall. Consult our portfolio to get an idea of ​​the extent of tadelakt's offer for home and business environments.
Like all great traditions, art relied on an oral tradition between artisans to keep it alive. The tadelakt method is basically the following:
– Lime plaster mixed with water for 12-15 hours before adding pigment
– Sometimes we add marble or limestone sand.
– Compressed when plastic to eliminate voids.
– Mechanically polished with stone, which gives a smooth, sometimes shiny, finish.
– Treated with a natural soap solution – black or olive soap – to accelerate the carbonation of the surface and give it resistance to water.
The natural soap made from olives used to seal the tadelakt finish is a fabulous product sold in paste by the kilo in the souks of Marrakech. It emulsifies in water and penetrates deep into the plaster when gently rubbed, rather than leaving a waxy coating as you would expect. The alkalinity of lime reacts with the soap to form a soap foam which is very resistant to water and scratches – and harder than hardened lime – while remaining porous and breathable.